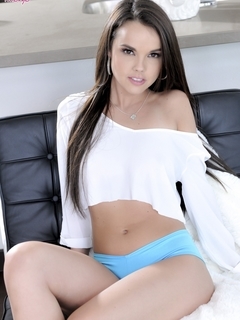 Florida, United States
Height:
166 cm - 5 feet and 5 inches
Official Site:
https://www.youtube.com/user/DillionHarper https://twitter.com/dillionharper
Dillion Harper is the best babe to play the girl next door, because of her innocent and youthful look. She is a brunette cutie with an adorable smile and voluptuous curves. From what I've seen, Dillion Harper has some of the best looking boobies in the entire industry, and I've seen a lot. The thing that makes me say that even more is the fact that her jugs are 100% natural. She was born in Jupiter, Florida, back in 1991 on 27th of September. Her career in the adult industry started in 2012 and she is still active. If you ever saw a movie or even just a photo of this pretty chick, you're hooked, so let's see what she has to offer when it comes to adult entertainment. Dillon Harper started out as a webcam model when she was 19 years old and still living with her parents. They didn't knew about it, so she had to do it late at night, in her locked bathroom. She did all this so that she could afford college and become an oral hygienist. However, things didn't go as planned and after she moved out, she realized life is not that pink as she thought it would be. She ran out of money, she lost her day job and the only helping hand came from Bella Roxxx, an ex porn star who recommended her to the guys over at Bangbros. She shoot her film for BangBros in Miami and soon after, she realized she could do porn for a living. The looks helped her a lot and in time, she became obsessed with improving her performance. However, there is one thing she regrets. In a recent interview, Dillion stated that she would like to be taken more seriously in a naughty way. Most of the contract she gets are for "first time" kind of scenes. Her dream is to become a dominatrix and she just can't wait to see how she will look in her MILF era. But she has things that she can be proud of. As a newcomer, Dillion didn't had much choice, so she mostly shoot boy/girl scenes. However, as she gained popularity, she was casted in many girl/girl scenes, which are her favotires. Meanwhile, she learned how to be with a man in front of the camera and now she enjoys every kind of scene she has to do.