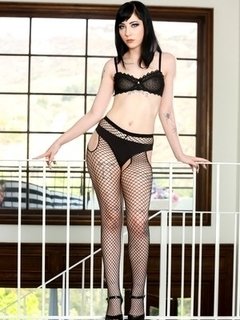 California, United States
Height:
160 cm - 5 feet and 3 inches
Official Site:
https://www.instagram.com/GothCharlotte/ https://www.youtube.com/channel/UCrScq6kiaLri5eH-LfVdbGw https://twitter.com/GothCharlotte
Charlotte Sartre is an American hardcore porn actress. She's most well known for her unique look, tattoos and hardcore BDSM scenes. Charlotte was born and raised in a small town in California. Sartre always been very shy and quiet, so none of her friends would've expected her becoming porn actress. But she always been a big fan of BDSM porn. At the age of 20 she started doing webcam modelling and soon became very popular model.